Nine to Five - (1980) - Netflix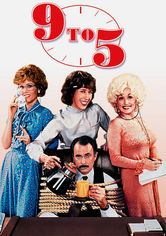 Essenciais de streaming de vídeo
Comedia
Three women fed up with their boss entertain fantasies of revenge – which become reality when they believe they've inadvertently poisoned his coffee.
Director:

Colin Higgins

Reparto:

Lawrence Pressman

,

Henry Jones

,

Elizabeth Wilson

,

Sterling Hayden

,

Dabney Coleman

,

Dolly Parton

,

Lily Tomlin

,

Jane Fonda

Calificación de Netflix:

3.5/5
Puntuación de Rotten Tomatoes:
0/100
Países en los que está disponible:

¿No está disponible en tu región? ¡Abre una cuenta en ExpressVPN para desbloquear Netflix!

Disponible desde:
09 Sep 2014
Títulos similares:

Synopsis
Meet Franklin Hart ('Coleman'). The biggest 'sexist egotistical lying hypocritical bigot' boss on the planet. He thrills in taking advantage of his head female office staff; humiliating, downplaying, and condescending against them whenever conveniently possible, particularly his top assistant Violet ('Tomlin'). Long exhausted over his gruesome bullishness, Violet, alongside coworkers Doralee ('Parton') and Judy ('Fonda') comprise comical methods of 'doing him in', when a freak incident occurs. They then manage to kidnap Hart and trap him in his own house, while assuming control of his department, and productivity leaps. But just how long can they keep him tied up?
Otros títulos que se están viendo en este momento