Friday the 13th: Part 5: A New Beginning - (1985) - Netflix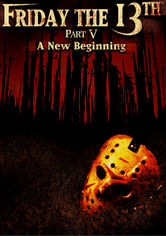 92m -
Terror
After "killing" Jason in The Final Chapter, an older Tommy is released to a halfway house, where the grisly murders begin anew.
Director:

Danny Steinmann

Reparto:

Corey Feldman

,

Curtis Conaway

,

Todd Bryant

,

Dominick Brascia

,

Suzanne Bateman

,

Anthony Barrile

,

Vernon Washington

,

Carol Locatell

,

Juliette Cummins

,

Marco St. John

,

Richard Young

,

Shavar Ross

,

John Shepherd

,

Melanie Kinnaman

Calificación de Netflix:

3.2/5
Puntuación de Rotten Tomatoes:
0/100
Países en los que está disponible:

¿No está disponible en tu región? ¡Abre una cuenta en ExpressVPN para desbloquear Netflix!

Disponible desde:
01 Dec 2014
Tráiler:
Títulos similares:

Synopsis
Five years after killing the goalie hockey-masked killer Jason Voorhees, Tommy Jarvis has grown up in various mental hospitals unable to get over the nightmares about Jason's return. When Tommy is sent to a rural halfway house in New Jersey for mentally disturbed teenagers, a series of grisly murders begin anew as another hockey-masked killer begins killing off all people at and around the residence. Has Jason returned from the dead to re-start his killing spree? Has Tommy decided to take over the reign of Jason, or has someone else?
Otros títulos que se están viendo en este momento