Where Eagles Dare - (1968) - Netflix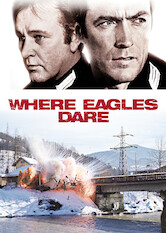 Cómo desbloquear todas las películas y programas de televisión en Netflix
2h35m -
British Movies
World War II is raging, and a captured American general is being held hostage in Schloss Adler, a Bavarian citadel that's nearly impossible to breach.
Director:

Brian G. Hutton

Reparto:

Clint Eastwood

,

Peter Barkworth

,

Mary Ure

,

William Squire

,

Robert Beatty

,

Michael Hordern

,

Brook Williams

,

Donald Houston

,

Richard Burton

,

Patrick Wymark

,

Neil McCarthy

Calificación de Netflix:

7.7/5
Puntuación de Rotten Tomatoes:
0/100
Países en los que está disponible:

¿No está disponible donde vives? Aprende a desbloquear Netflix y mira este título.

Disponible desde:
2019-08-01
Tráiler:
Títulos similares:

Synopsis
During WW2 a British aircraft is shot down and crashes in Nazi held territory. The Germans capture the only survivor, an American General, and take him to the nearest SS headquarters. Unknown to the Germans the General has full knowledge of the D-Day operation. The British decide that the General must not be allowed to divulge any details of the Normandy landing at all cost and order Major John Smith to lead a crack commando team to rescue him. Amongst the team is an American Ranger, Lieutenant Schaffer, who is puzzled by his inclusion in an all British operation. When one of the team dies after the parachute drop, Schaffer suspects that Smith's mission has a much more secret objective.
Otros títulos que se están viendo en este momento