How to Talk to Girls at Parties - (2017) - Netflix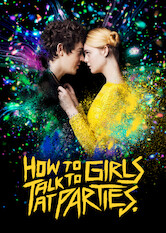 1h42m -
Comedia
After a party-loving posse encounters an alien cult, worlds collide when a teen punk falls for a foreign rebel craving a taste of human life.
Director:

John Cameron Mitchell

Reparto:

Alex Sharp

,

Nicole Kidman

,

Edward Petherbridge

,

Tom Brooke

,

AJ Lewis

,

Elle Fanning

,

Matt Lucas

,

Ruth Wilson

,

Ethan Lawrence

,

Joanna Scanlan

,

Stephen Campbell Moore

Calificación de Netflix:

5.8/5
Puntuación de Rotten Tomatoes:
0/100
Países en los que está disponible:

¿No está disponible en tu región? ¡Abre una cuenta en ExpressVPN para desbloquear Netflix!

Disponible desde:
2019-03-01
Tráiler:
Títulos similares:

Synopsis
John Cameron Mitchell, director of the acclaimed films Hedwig and the Angry Inch and Shortbus takes us to an exotic and unusual world: suburban London in the late 70s. Under the spell of the Sex Pistols, every teenager in the country wants to be a punk, including our hopeless hero Enn. Hearing the local punk Queen Boadicea is throwing a party, Enn crashes the fun and discovers every horny boy's dream; gorgeous foreign exchange students. When he meets the enigmatic Zan, it's lust at first sight. But these girls have come a lot further than America. They are, in fact, aliens from another galaxy, sent to Earth to prepare for a mysterious rite of passage. When the dark secret behind the rite is revealed, our galaxy-crossed lover Enn must turn to Boadicea and her punk followers for help in order to save the alien he loves from certain death. The punks take on the aliens on the streets of London, and neither Enn nor Zan's universe will ever be the same again.
Otros títulos que se están viendo en este momento