The Dark Tower - (2017) - Netflix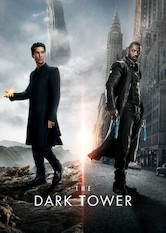 1h34m -
Adventures
A teenager with psychic powers meets the last Gunslinger, who must stop a sorcerer from destroying the one thing that holds the universe together.
Director:

Nikolaj Arcel

Reparto:

Jackie Earle Haley

,

Abbey Lee

,

Katheryn Winnick

,

Tom Taylor

,

Idris Elba

,

Matthew McConaughey

,

Claudia Kim

,

Fran Kranz

,

Dennis Haysbert

Calificación de Netflix:

5.7/5
Puntuación de Rotten Tomatoes:
0/100
Países en los que está disponible:

¿No está disponible en tu región? ¡Abre una cuenta en ExpressVPN para desbloquear Netflix!

Disponible desde:
2019-05-22
Tráiler:
Títulos similares:

Synopsis
The last Gunslinger: Roland Deschain, has been locked in an eternal battle with Walter O'Dim, also known as the Man in Black, and determined to prevent him from toppling the Dark Tower that holds the universe together. With the fate of the world at stake, good and evil will collide in the ultimate battle, as only Roland can defend the Tower from the Man in Black.
Otros títulos que se están viendo en este momento