Right Here Right Now - (2018) - Netflix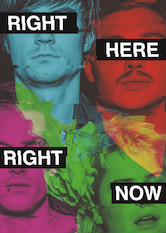 1h30m -
Comedia
The owner of a failing music club throws one last blowout, bringing together friends, foes and hard-partying weirdos for an unhinged New Year's Eve.
Director:

Jakob Lass

Reparto:

Mathias Bloech

,

Felix Maria Zeppenfeld

,

Bela B. Felsenheimer

,

Kalle Schwensen

,

Niklas Bruhn

,

David Schutter

,

Tinka Furst

,

Martina Schone-Radunski

,

Corinna Harfouch

,

Tanna Barthel

,

Bela B.

,

Esther Blankenhagel

Calificación de Netflix:

6.0/5
Puntuación de Rotten Tomatoes:
0/100
Países en los que está disponible:

¿No está disponible en tu región? ¡Abre una cuenta en ExpressVPN para desbloquear Netflix!

Disponible desde:
2019-06-16
Tráiler:
Títulos similares:

Synopsis
On New Year's Eve in Hamburg, a young club owner is struggling to keep the party going when a violent ex-pimp, the police, a former rock star and the love of his life are all coming for him.
Otros títulos que se están viendo en este momento