Crossing Rachmaninoff - (2015) - Netflix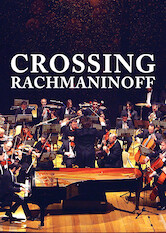 Cómo desbloquear todas las películas y programas de televisión en Netflix
52m -
Música
Ahead of his debut performance with an orchestra, an aspiring concert pianist prepares to play Sergei Rachmaninoff's famous second concerto.
Director:

Rebecca Tansley

Reparto:
-
Calificación de Netflix:

8.4/5
Puntuación de Rotten Tomatoes:
NA
Países en los que está disponible:

¿No está disponible donde vives? Aprende a desbloquear Netflix y mira este título.

Disponible desde:
2022-08-08
Títulos similares:

Synopsis
'Crossing Rachmaninoff' is the story of one man's journey to redemption through Rachmaninoff's Piano Concerto No. 2. Italian-born Flavio Villani is preparing for a performance that will confirm his arrival as a concert pianist and vindicate his decision to be a musician. This film introduces Flavio in Auckland as he grapples daily with Rachmaninoff's challenging work. It explores the single-minded commitment necessary to become a concert pianist exposes the professional challenges he must overcome and reveals Flavio's true commitment as he prepares the very piece that proved Rachmaninoff as a composer. Flavio travels to Italy to meet the family who once struggled with their son's homosexuality and discouraged him from a life in music. His first rehearsals with the Orchestra Filarmonica della Calabria reveal up-close the dynamics of orchestral musicians and those who play with them. Flavio must negotiate all of this to become accepted in the classical music community and truly perform at his best. On the biggest night of Flavio's life--the spectacular moving moments of what has come to be known as 'the Rach 2'--he has his one chance to leave it all on the stage and prove he has what it takes to make it. 'Crossing Rachmaninoff' is a story of many parts. More than a personal odyssey with all the elements of drama and catharsis that Rachmaninoff himself depicts so splendidly it explores the fundamental desire to be accepted for who we are. It celebrates the beauty and power of music and the bravery of those who bring it into our lives.
Otros títulos que se están viendo en este momento